About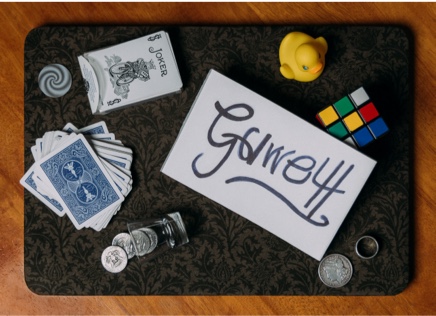 Garrett Thomas
Master Magician
Garrett Thomas thinks differently.
His magic is real, not borne of a purchased kit and rehearsed, but discovered on his own. He's "a magician's magician," a real-life wizard whom even the finest and most practiced in the field of magic study for clues.
Magic is Garrett's passion, path and art. It is the filter through which he perceives and lives his life. He's an inventor, creating new concepts and principles by looking at the world and finding magic in it.
As an internationally recognized sleight-of-hand magician, his art comes from a lifetime of problem solving. Being dyslexic, he learned early to think things through in a different way, in order to find a path where there was none.
Crossing paths with Garrett Thomas is like an encounter with a unique and talented soul. His understanding of how perception works, the human body, and psychology allow him to "create a moment," an experience of something you can't explain, yet will always remember.
Garrett has performed across his home state of New York, around the country, including at the Magic Castle in Hollywood, in Canada and overseas. He has been a regular writer and consultant to David Blaine since 2003, performed for many celebrities, consulted other magicians, and in 2020 won the top prize on the TV show Penn & Teller: Fool Us.
Media
Scroll to view additional videos
Performances & Demonstrations
Garrett Thomas looks at the world and finds magic in it. Every day. In every situation.
It's how his unique brain works.
Often described as a "real-life wizard," and a "magician's magician," Garrett has spent a lifetime thinking differently, creating and inventing original new magic — not just buying something off the shelf.
Open your world to his unique presence for an encounter to remember.
WEDDINGS, RECEPTIONS, SPECIAL EVENTS
Transport your guests into an enchanted magical experience
Spark creative energy and fun conversations
Ignite a renewed sense of wonder
Create joyful memories for people of all ages and backgrounds
CORPORATE MEETINGS & TRAININGS
Encourage teamwork through a shared experience of astonishment
Motivate from a rare and unique vantage point
Inspire your team of humans with original thinking and inventiveness
Learn how perception, the human body, and psychology create magical work
Create conditions for meaningful progress and change
FORMAL CLOSE-UP MAGIC
Experience the thrill of the unexplainable with a custom performance
Up close and personal, magic that happens right in your hands
Appreciate Garrett's gift to harness the mysteries of the unknown in a private setting
Savor and discuss the memories long after the show
LECTURES & CLASSES
Present your attendees with a historical understanding of the art of magic
Find your creative potential by learning to think differently
Develop your skill with Magic for Magicians
Look at magic in a new way as surrealist performance art or painting a fourth dimension
VIRTUAL SHOWS
Be front row and center of a live event and enjoy real magic while in the comfort of your
own home.
Experience a unique performance that can only be seen online
Revel in Garrett's newly created magical moments in a virtual environment
GARRETT THOMAS, MASTER MAGICIAN: ORIGINAL, INVENTIVE, CREATIVE
Open Your World for an Encounter to Remember
Garrett Thomas is a world-renown magician, admired by peers and fans alike. In 2020 he was awarded the top prize on the nationally syndicated show Penn & Teller: Fool Us.  He's an inventor, creator, performer and mentor with magic being his life and daily path.  A New York State native, he has performed nationally and internationally, recorded videos, been a guest speaker for lectures, presented classes, tutored aspiring magicians and been the highlight of special events for thousands of people.
YOU HAVE TO SEE IT, BUT YOU WON'T BELIEVE IT.
ALL COVID-19 SAFETY GUIDELINES WILL BE FOLLOWED TO REMAIN IN COMPLIANCE WITH STATE AND FEDERAL REGULATIONS.
Comments, Questions & Reservations